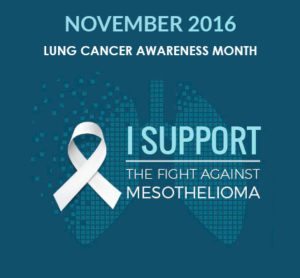 In the U.S., November is best known for the start of the holiday season with Thanksgiving on Nov. 24. However, families who have a loved one battling mesothelioma or lung cancer will not be celebrating – they will be focusing their efforts on understanding and fighting the cancers. This year, help them out by making November a month to educate others about mesothelioma and lung cancer by taking part in Lung Cancer Awareness Month.
The month, which emphasizes education and awareness of all things about lung cancer and other cancers affecting the respiratory system, such as mesothelioma, is getting a boost in visibility this year with participation by the International Association for the Study of Lung Cancer (IASLC). The IASLC is "leading a joint effort among a consortium of non-profit lung cancer patient advocacy organizations and individuals, to produce a coordinated, harmonized public awareness campaign for Lung Cancer Awareness Month (LCAM)," according to its website.
The consortium launched a new website, http://lcam.org/, and wants to fill it with stories and pictures from survivors and families affected by lung cancers. The group's tagline, "Hope Lives – More Research. More Survivors.", highlights the group's dedication to improving survival for those affected by cancers of the lung.
Pleural mesothelioma is caused by inhalation or ingestion of airborne asbestos fibers. The fibers then become lodged in the lining of the chest, where, over the years, they begin to irritate the tissue leading to cancer. The disease has a very long latency period and is often not discovered until decades after exposure. The treatment protocol for mesothelioma is similar to that of lung cancer.
Lung Cancer and Mesothelioma Facts
Lung cancer accounts for about 27 percent of all cancer deaths, and is the leading cause of cancer death among both men and women.
158,080 Americans are expected to die from the disease in 2016.
Each year, more people die of lung cancer than of colon, breast, and prostate cancers combined.
One in 15 Americans will be diagnosed with lung cancer in their lifetimes.
Mesothelioma is a terminal, asbestos-related cancer that affects the linings of the lungs, abdomen, heart, or testicles.
Many of the firefighters, police officers, and rescue workers from Ground Zero on September 11, 2001, may be at increased risk of contracting mesothelioma in the future.
Mesothelioma is diagnosed in close to 3,000 Americans each year, and approximately one-third of those diagnosed are military veterans.
There is no cure for mesothelioma.
"It is important that IASLC members help communicate the vast threat lung cancer poses around the world," according to the IASLC. But, it is also important for the public to realize there is hope.
"We need the public and the media to understand that new research, diagnosis and treatment breakthroughs in the last 10 years have brought new hope to patients and their families."
The Lung Cancer Alliance, with a mission of saving lives and advancing research by empowering those living with and at risk for lung cancer, says "Make the most noise ever for Lung Cancer Awareness Month" by adding your voice to the national movement. The Alliance is focusing its efforts on its campaign "Shine a Light on Lung Cancer" and encourages the public to do the same.